Heet Wave therapeutic hot packs are perfect for injuries or discomforts that respond to either warmth or cold treatment.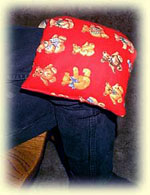 In addition to their therapeutic value, Heet Wave thermal packs have many other uses:
Hand and pocket warmers keep hands cozy on cold days
Use a full size Heet Wave to warm your feet
Bring one in your car on cold winter mornings
Place in the bottom of a bread basket to keep rolls warm
Use your imagination! These are just a few of the numerous possibilities...you may come up with some of your own!
Heet Wave is a member of NH Made:
showcasing products made exclusively
in the State of New Hampshire.
Heet Wave, PO Box# 1602 Derry, NH 03038
Phone: (603) 626-1915 • Fax: (603) 622-2253 • Email: lessard@heetwave.com